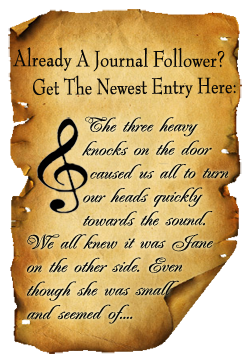 This is my version of Edward Cullen's thoughts and what he thought and felt during the entire time he was a vampire, including meeting, falling in love with, and starting a family with Bella Cullen, especially his life with Bella after the books end!
The entries are going to start coming very quickly and then slow down once I get them all posted, so please be patient, as I have just started this blog and am getting all of the kinks worked out!
In the meantime, please feel free to email me with any thoughts and ideas!
Before you do, though, please keep these things in mind:
If you're emailing to ask how often a Journal Entry gets posted, there's really no set date as of right now. I am trying to post as many as possible as fast as possible and once I get them up, I will set a regular schedule.
Also- I AM NOT Stephenie Meyer. I am a huge fan of the Twilight Series, and what she has done with it, however, and in the spirit of all things Twilight, and Edward Cullen, have decided to start this site. Also, because I am not Stephenie Meyer, I may not say or do things in my story line that match up entirely with hers. I will try and keep things (in the past) as close as possible for you Twilight lovers, but in the spirit of Edward lovers, this is his story (or my version of it, anyway) and things may not always be exactly the same. I will try not to make any major errors, though. LOL
If you do email me, please keep in mind that while I do read all of your emails, however unfortunately at this point cannot guarantee that I can write you all back. I get such a high volume of emails right now that while each one is just as important as the next, and I wish I had time to get back to them all, I just dont have the time, as I have to focus on writing more Edward entries! :)
I do get back to as many as I can though.
I will be adding a FAQ page soon, so I can answer all your questions, and I will also start adding recent Twilight news!
Thanks!!
**Not in any way affiliated to Stephanie Meyer or endorsed by her or her publishing company.**